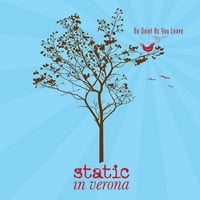 Back in 2007, a band named Ash Avenue released a fine 90s-styled power pop disc titled
And Then We Ignite
. But that wasn't enough for lead guitarist and main songwriter Rob Merz, who by his own admission drove his bandmates crazy with all the new songs he had come up with. So with necessity being the mother of invention and all that, Merz started a side project called Static In Verona, and Be Quiet as You Are is the debut album, and a fine debut it is.
Whereas Ash Avenue was a little more "slick-sounding", Static in Verona leans more to the indie pop side of things, but is more melodic and accessible than a lot of what passes for indie pop these days. In fact, album opener "Drag Me Down", with its ringing guitars and big chorus, wouldn't have been out of place on And Then We Ignite, and "Unlucky Stars" has a bit of a Teenage Fanclub-meets-The BoDeans kind of vibe. But "Dead Bouquet" lets you known things are different: after a two-minute slow-building instrumental opening, it evolves into an Smiths-style 80s-influenced number. The title track is outstanding as well, recalling The Shins. Other standouts include the peppy "Sleeping Alone", which is perhaps the most traditional power pop-sounding track on the disc, and the Elliott Smith-influenced "Pretty".
Best of all (for the next week or so only) it's available as a free 256 kbps download from the
Static In Verona site
(just click on "music"). So go over there, grab a free copy, and Be Quiet as You Leave.
CD Baby
|
MySpace