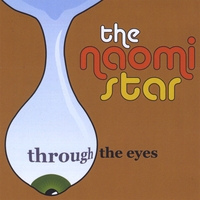 Here's another late 2008 release that finally found its way before my ears after the calendar turned, and one that would have warranted placement on my year-end list. This is the third disc from The Naomi Star, a band from Connecticut that seems to get better with each disc. Whereas their first two releases were more straight-ahead pop, Through the Eyes finds them branching out, adding country and folk elements to their already pleasing pop palette.
This becomes apparent off the bat with the Band-influenced "Karma", which in a just world would make these guys big money as the new theme for the TV show "My Name Is Earl". The down-homey "Where are You Going" is Exhibit "B" for their new sound, similar in feel to many of the songs on the new Ben Kweller (another popper gone country-inflected) disc, and the winsome "She Told Me" completes the opening trilogy of their new country-pop sound.
Things return to familiar ground with "Moneyman", a rocker in the style of Patrick Pentland's offerings in Sloan, and "Powerpop Nugget" is just that - a 2 1/2-point track about a powerpop track that went straight to the "top of the charts". Elsewhere, the title track and "A Better Place" are dreamy pop treats, "Anjoulie" is another country-influenced stomper, and "Slowing Down" finds the golden mean between pop and country with a Jayhawks-like grace. Great stuff.
CD Baby
|
MySpace