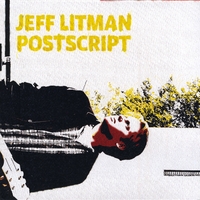 Trained in classical guitar and jazz, NYC's Jeff Litman might seem like an unlikely popster. But those genres' loss are our gain, as Litman has crafted an excellent singer/songwriter debut that fans of smart power poppers like Jon Brion, solo Rhett Miller and (perhaps most of all) Jim Boggia should be all over.
Litman demonstrates his chops right away with the bouncy "Anna". Vocally, he resembles Steven Page of Barenaked Ladies, and one could be forgiven for mistaking "Anna" as a lost BnL track. The piano-driven "Complicate" is another winner and the jangly midtempo pop gem "Everything You're Not" brings to mind Nick Pipitone, both solo and with The Rip Off Artists. These three tracks would be good enough to anchor most discs, but there's more to be had. The rocking yet charming "Detroit Layover" and "Knock Me Down" are where the solo Rhett Miller comparisons come in, and the sweet pop of "Open Arms" (not a Journey cover) recalls The Goldbergs.
Litman also proves masterful on the slower numbers. The title track is a particular delight in this regard - its lilting melody and tasteful strings would fit right in on the new David Mead album, and the closing number "It Wasn't Me" is gorgeous as well. Without a doubt this is the best singer/songwriter debut I've come across in many months, and 2009 has another early best-of contender. This is one Postscript that deserves to be in the main body of the message.
CD Baby
|
MySpace
|
Stream @official site
(click on "listen here" on the left) |
iTunes