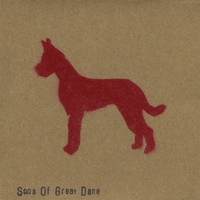 History is littered with alternate universe questions. What if the Allies lost World War II? What if the South won the Civil War? These questions can never be answered for sure, but the debut disc from the Kansas City band Sons of Great Dane gives us a plausible answer to the counterfactual that asks what if Alex Chilton and Chris Bell were into country-rock instead of the Beatles?
Blending power pop and country in a tuneful fashion not heard since the turn of the century heyday of Wilco's Summerteeth, Old 97s' Fight Songs and The Jayhawks' Smile, Sons of Great Dane have one of the early 2009 best-of frontrunners on their hands. Opener "Early Train" leans to the pop side, and recalls Red Guitar, The Meadows and other contemporary country-influenced pop bands, while "Always Wrong, Always Right" has a western noir sound that brings to mind Joe Pernice's "Bum Leg".
The bright pop of "Bullet Left Its Barrel's Head" is another album highlight, "The Ballad of Lou Baker" is Elliott Smith in a cowboy hat, and "One Man (Wishful Thinking") is Midwestern pop/rock in the vein of The BoDeans. Elsewhere, "Drug Queen Beauty" rocks a la Wilco's "Monday" (from Being There, which their producer Lou Whitney worked on as well), and while "Question" shares its title with a classic Old 97s track, the resemblance ends there as instead of an acoustic number, it's a densely produced pop/rock gem that turns into a guitar freak-out at the 4-minute mark and doesn't look back over the next 2 1/2 minutes. And the closing triumvirate of "St. Andrew", "Cut/Paste" and "Something" hold up their end of the album in melodic rocking fashion.
This one's a treat, and it holds the promise of uniting the No Depression crowd and the IPO crowd if it can get before enough ears, something for which I'm doing my part.
CD Baby
|
MySpace
|
iTunes
|
Download 3 tracks here