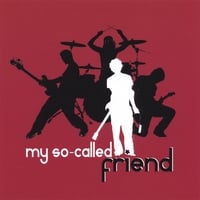 Boston and its surrounding areas have been a haven lately for high-energy power pop, and it's kind of fitting we salute a Boston band today with IPO Boston in full swing at the moment. In the same vein as bands like The Cautions, Waltham, and with an element of the great Boston pop band of them all (The Cars) in their sound, My So-Called Friend is worth your acquaintance if this type of power pop is up your alley.
Their self-titled debut also has the "modern rock" sound of Weezer and perhaps a crunchier Click Five. Listen for yourself at
their myspace page
, or
at CD Baby
. What impresses me about the band is that they can do more than rock - midtempo tracks like "San Diego" and "House Arrest" are highlights, and closer "The Beating of Our Hearts" is a power ballad par excellence.
The disc is also available
directly from the band
for a couple of bucks cheaper than CD Baby.