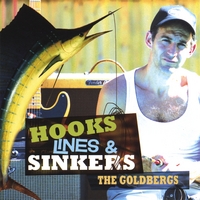 Wow. Let me say that again: Wow. This one came out of nowhere. I noticed it last week on
Kool Kat's
weekly new release email, and it sounded intriguing. Before I could get around to sampling it and checking it out, Andy Goldberg sent me an email offering up a promo copy. I said bring it on, and after listening to it today, my jaw dropped at how good it is. This is perhaps the most fully realized power pop debut since Eugene Edwards'
My Favorite Revolution
a couple of years ago.
Although nominally a band, it's pretty much all Andy Goldberg here, and the comparisons that leap to mind are several: Marshall Crenshaw, Michael Carpenter, Walter Clevenger, the aforementioned Mr. Edwards, and to head back to the 70s, Badfinger and Nick Lowe. Normally at this point of the review I tout the top tracks on the disc, but I really can't do that here as all ten are nearly equally outstanding. So head on over to
The Goldbergs' myspace page
, where you can download and/or stream three tracks. Then pop on over to either
Kool Kat
(where they also reacted with "Wow!") or
CD Baby
(where as always you can sample the rest) and pick it up. Although I want to listen a few (dozen) more times before ranking it, all I can say right now is that Bob Evans and Supraluxe need to be looking over their shoulders.