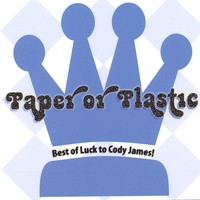 Paper or Plastic is a piano-based power pop band out of Portland, Oregon, and they've been doing this for a few years. Their latest is Best of Luck to Cody James and it might be their best yet. Sonically, they're somewhere between Ben Folds and Elvis Costello (they covered "Blame It On Cain" on their debut disc), or perhaps what it would sound like if Steve Nieve were the front man and Elvis C were one of the Attractions.
In any event, the songs are all killer, no filler on this seven-track release. The leadoff track is piano power pop perfection with "West Virginia" (as in "you have an unescapable dependence on"); "My Reputation is Better Than Yours" wears its attitude on its sleeve; "Neckties" rocks to a great melody; "Gay Bar" ("let me take you to a") is good fun and has a 70s vibe, not that there's anything wrong with that; "Street Lights" is a midtempo marvel; "I'm Not a Bastard" is right out of the Ben Folds Wiseass playbook; and closer "For The Money" reminds me a bit of Orson.
Grab an mp3:
West Virginia
"West Virginia", "Gay Bar", "Neckties" and "Street Lights" are all streaming at
their myspace page
, and the rest can be sampled
at CD Baby
. It's also available
at iTunes
, which is a cheaper way to get it, especially if you grab the "West Virginia" mp3 and/or take them up on their free download offer on their myspace page.
And who is Cody James? Google says he's
this guy
, but for we all know it could be some local childhood friend of the band or a name they just liked the sound of. Anyone from Paper or Plastic (or who otherwise knows) can feel free to enlighten us in the comments.
UPDATE: See the band's cryptic response in the comments.