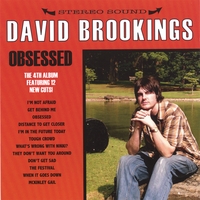 Memphis's David Brookings has established himself as one of the more consistent power pop artists of the decade, and his fourth album, Obsessed, is another winner. Brookings' music has been described (according to Not Lame) as "power pop in the vein of such timeless faves here as Jim Boggia, Michael Carpenter, The Grays, Cherry Twister( and Parallax Project), Marc Carroll, Paul Melancon, The Candy Butchers and Matthew Sweet".
Obsessed has more of the sound of recent Mike Viola/Candy Butchers than some of the others listed above, and the punchy "I'm Not Afraid" starts things off with the right mix of sass and melody. "Get Behind Me" is a rollicking acoustic number, and the title track is a wonder - a wistful midtempo number that recounts Brookings' life to date in music. Other highlights include the classic power pop of "I'm In The Future Today", the gentle acoustic "What's Wrong With Nikki?" and the Michael Penn-ish "Don't Be Sad". "Get Behind Me" and "Obsessed" can be downloaded at the myspace link below.
CD Baby
|
MySpace
Also get his previous two albums
at eMusic
.