So I was checking
Not Lame's
new releases this week, and one of the album covers caught my eye: Auto Interiors' Let Agree to Deceive Our Best Friends. Here it is:
It's actually a pretty decent album; I got a chance to listen to the whole thing
on Rhapsody
without even being a subscriber (you get 25 free plays). (Or you can download a couple of tracks from
their myspace
). But something about that album cover looked real, real familiar: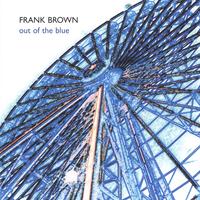 Ah, yes...Frank Brown's 2005 release Out of the Blue. (Of course, Frank's album title has an awfully
familiar ring
of its own). And it's a pretty good album, too, worth checking out if you missed it back then - it's still available on
CD Baby
and
eMusic
.
Nevertheless, I'm still a little disappointed in both of these discs; neither had a power pop cover of
the Ohio Players' "Love Rollercoaster"
The Pernice Brothers' "Ferris Wheel" on it.