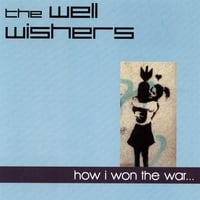 If there's anyone in the power pop community you can count on to consistently deliver the goods, it's Jeff Shelton. From a great run with the Spinning Jennies to his current band, The Well Wishers, you know before evening listening to the album that it's going to be good. And the Well Wishers' latest, How I Won The War, is no exception to this rule; it's more of the Posies-meet-The-Shoes-with-a-modern-twist sound that propelled their previous release,
Under The Arrows
, to #5 in my best of 2005 list.
However, there is a slightly darker, less sunny feel to this disc, as it draws upon some Smiths/Cure influences, and the unbilled cover of The Chameleons' "Nostalgia" that closes the disc makes the point clear; opener "Grey Skies Black" trades the Wishers' normal jangle for more of an 80s britpop sound as well, yet remains true to their melodic vision. But there are still plenty of what might be called "classic" Well Wishers tracks here as well, especially "Seashells", "I'm In Love (Slight Return)" and "Merilee", and tracks such as "The Optimist" and "It's True What They Say About Girl" up the rock quotient a bit. All in all, Shelton has done a masterful job of making a great Well Wishers record without making a carbon copy of Under The Arrows in the process.
CD Baby
|
Not Lame
(with full stream)