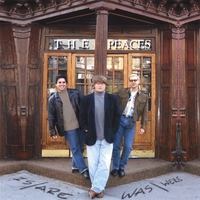 In keeping with
yesterday's CD of the Day
, here are The Peaces, another New York City band that owes its sound to 1960s pop. But where the Zombies of the Stratosphere were more influenced by 60s mod and psychedelia, The Peaces have a more "pure" pop sound that owes more to Beatles circa 1965 and other more classic-sounding contemporary power poppers like The Rubinoos, The Spongetones or The Red Button.
The most notable characteristic of The Peaces are their harmonies, and nowhere are they more evident that in the opening track "Don't Take It For Granted" and its immediate followup, the piano-based "Endless Line", which come off as lost Association or Left Banke tracks with a bit more pep. "She Stands So Close to Me" jangles away, and just when you think it's all sweetness and harmony, they give us the somewhat acerbic "Portrait In Vanity", complete with guitar solo (but still
somewhat
sweet-sounding). The Holliesesque "Nobody Cares" is another highlight. All in all, it's a great disc for those who enjoy the kind of harmonic pop that you heard on the radio in the 60s.
CD Baby
|
MySpace