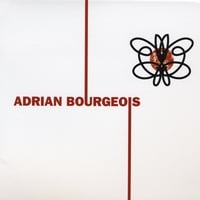 More proof that bloodlines can matter in music - on the heels of our Pinder Brothers review, here's Adrian Bourgeois, son of Brent Bourgeois of the 80s band Bourgeois Tagg, which worked quite a bit with Todd Rundgren. Adrian's his own man, though, and he's not going to need his last name to get his high-quality solo debut noticed. In fact, I am sorely tempted to break out the siren for this one.
This is a Grade A tour-de-force of pop (power and otherwise) stylings that we all know and love here at Absolute Powerpop. "Mr. Imaginary Friend" hooks you into this disc from the beginning, with its Michael Carpenter-like jangle and breezy melody. "Clown Review" follows, a stunningly beautiful track that channels both Elliott Smith and Michael Penn. "Juniper" is a Beatlesque delight in the vein of the more sublime moments of The White Album and Abbey Road ("Because" in particular). Meanwhile, the slightly bombastic "Dream On" is reminiscent of Oasis when Oasis were good; I've already mistaken the ballad "To Be (The First Man on Earth)" for David Grahame when it came up randomly on my iPod, and "Silk From Ashes" recalls the aforementioned Mr. Rundgren. And those are just the first six tracks. There's no dropoff in the second half either: "Melt In My Mind" has a bit of a Bacharachian/Brian Wilson vibe and the midtempo "My House" might be as good as anything on the album.
There's really no other conclusion to draw than to say this one just shot to the top of your "Discs to buy" list, and it's shooting right up my top 10 of 2008 list as well (to be finally unveiled next week, I promise).
CD Baby
|
MySpace