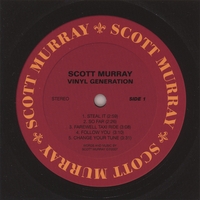 "Vinyl Generation" is an apt moniker for myself and probably the lion's share of my readership, and the faux classic Columbia Records LP label on the cover brings back a lot of memories. But all of this nostalgia-mongering wouldn't mean a thing if the disc inside wasn't top-notch, and thankfully Connecticut's Scott Murray (not to be confused with the Scott Murray - now known as Scott Moses Murray - who released the fine
Stutter
a few years back) has delivered the goods on his debut.
Murray, whose day job is that of a catering chef, has cooked up a disc of pop/rock that fans of artists like Jim Boggia, Jordan Zevon and Shane Searles will love. The CD opens with a great one-two punch: "Steal It" and "So Far" about as hooky and melodic as pop gets; good luck trying to get either one of them out of your head. The piano number "Farewell Taxi Ride" follows and draws on the early 70s incarnations of Elton John and Billy Joel, not entirely surprising given that Liberty DeVitto, Joel's longtime drummer, mans the kit on this disc. Meanwhile, "Change Your Tune" is a melodic marvel that reminds me of Del Amitri in their more Beatlesque moments, and "C.S.I." channels the Laurel Canyon sound but doesn't seem to have anything to do with the hit TV show.
Some of you may have noticed this one at #16 on the
Top 25 of 2008 list
from last week; now you know what the fuss was about. And here's some good news: you can stream the entire disc at his site.
CD Baby
|
Scott Murray Official Site