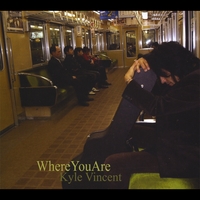 Call it pop, soft rock, MOR or whatever - nobody does that early 70s AM radio sound better than Kyle Vincent, and he's been doing it for years. His latest is Where You Are, his tenth album, and like fine wine (or a fine pop song), he gets better with age.
"It's Gonna Be a Great Day" serves as both the opening track and a description of when you first hear a Kyle Vincent disc, and it manages to capture that early 70s feel yet sound contemporary as I could easily hear an artist like Mika covering this song (albeit a bit more histrionically). The cheerfully uptempo "In Another Life" also recalls those salad days, in the vein of Godspell, while "The World is Upside Down" is a vintage Eric Carmen-style piano ballad.
Elsewhere, the lovely "Emily Standing" will appeal to Emmit Rhodes lovers, and "Goin' Down" is catchy in a Gilbert O'Sullivan kinda way. And there's no better way to establish your early 70s cred than by closing your album with a song called "Petals of Peace".
So basically, if you're man (or woman) enough to admit you dig Bread, Air Supply or any of those other early 70s soft poppers, you should make your acquaintance with Kyle Vincent, a man who was born about 35 years too late.
CD Baby
|
MySpace
|
iTunes
Or just listen to the whole thing right here: