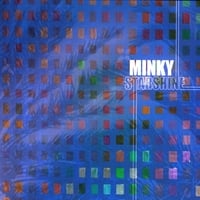 Another day, another great power pop album. Today's entry hails from Beantown (that would be Boston for the unfamiliar), and they have quite the power pop pedigree. Ken Stringfellow produced their 2006 debut and mixed this one along with Jellyfish's Chris Manning. And they have Mike Musberger of The Posies and The Fastbacks on drums, plus a whole host of other power pop studio veterans that are listed at their CD Baby page. So it's with great pleasure that I can say that Unidentified Hit Record, the sophomore effort from Minky Starshine, sounds as good as it looks on paper.
Opener "Bitter End" shows what sets them apart from many other power pop bands - the use of horns while maintaining a traditional power pop sound. In fact, with some glockenspiel thrown in, it implies like what Bruce Springsteen might have sounded like had he gone down the power pop path instead of traditional rock. The infectious "Good to Me" follows, with more horns and a honky tonk piano. With Stringfellow's involvement it's no surprise that there's a Posies influence here as well, and the driving "Paper Rain" and "Nobody Better" are a couple of vivid examples.
Other highlights include the string-laden "Brand New", a wonderful track with great harmonies that sounds like nothing else on the disc, and the midtempo "Misery", which mixes in a little pedal steel without shedding its pop feel. No sophomore slump here, and an early top 20 candidate.
CD Baby
|
MySpace
|
iTunes