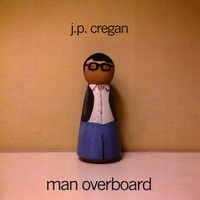 As those who subscribe to
my Twitter feed
might know, I'm big into fantasy sports as well as power pop. But never the twain shall meet - or so I thought until I ran into the debut release of LA's J.P. Cregan. For those into fantasy basketball (I'm a baseball and football guy myself), you may know him as ESPN's John Cregan, who writes a column on the topic
at espn.com
. But to those in the power pop community, you'll be knowing him as J.P. and you'll be enjoying his debut release Man Overboard as one of the top singer/songwriter discs of 2009.
Cregan isn't a musical novice - he's played in several bands and is currently in Parklane Twin, a "Popicana" band who put out
a fine 2007 disc
. But on his solo debut he emphasizes the pure pop (for now people) and it's all catchy as hell. Although opener "Carolyn (The Pledge Drive)", with its Nick Lowe/Brian Jay Cline-style country/roots vibe, might be lumped in with his band work, it's a springboard to the power pop stylings of "Count to Three" and "Barbara is Strange", perhaps the album's best track - pure ear candy with Beatlesque backing vocals, tambourines, fine Telecaster work, and a great melody.
That opening three might be worth the price of admission alone, but the hits just keep on coming. "Jeni", with its "Misery"-style tumbling piano chords, a Costello/Lowe melody and chiming British Invasion guitars, is another standout. "Out of Our Minds", with its Spectorish opening, is a treat, "Miss Highland Park" lays on the handclaps as it recalls Marshall Crenshaw, "Shouldn't Take it (So Hard)" rocks a la Matthew Sweet, and "Winter of '85" both namedrops and serves as an answer song to Bryan Adams' "Summer of '69". The disc ends on a high note with "The Underdog", another outstanding Elvis Costello-inspired track. In the vernacular of fantasy sports, Man Overboard is a no-brainer first-round pick, a power pop equivalent of Albert Pujols, Adrian Peterson or LeBron James.
CD Baby
|
MySpace