I've often thought about how expectations and preconceptions influence music (and other forms of art) reviews. There's no doubt they have an impact, as an artist's first album is judged on its own merits and in relation to the general sea of music in that genre, while the second album is inevitably compared to the first. In the case of an artist putting out a disc that is one of the best of its year, decade (or even all-time), the bar is set almost impossibly high and even a very good followup disc can come out looking relatively off by comparison.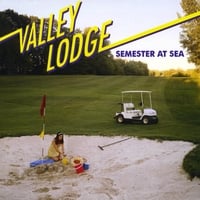 Which brings me to two discs I've eagerly been awaiting. The first is Valley Lodge's Semester at Sea, the followup to their brilliant 2005 self-titled debut, which I recently
declared the fifth best power pop album of all time
*. So try topping that, guys! As it turns out, they really didn't try topping the first disc; instead, they created a somewhat different sound. Instead of a more traditional power pop sound with sugary and crunchy melodies (i.e., making Valley Lodge II), they've opted to go in a harder, faster, glam-rock direction. Although off-putting at first (hey, what happened to Dave Hill randomly going falsetto?), letting the album wash (or steamroll, to be more accurate) over me has quelled my original disappointment. There's plenty to love here: Opener "Break Your Heart" (which namechecks "Every Little Thing", the first disc opener), "The Door" (the best song Gary Glitter or Sweet never wrote), "When the Rain Comes", possibly the disc's best track with its big guitar riffs and lyrics of decadence ("been kissed/been pissed/got freaky at a brist"), "Baby It's a Shame" (probably the closest cousin to the debut), the gloriously catchy "My Baby" and the rifftastic "Comin' Around". An interesting choice here is the (apparently) unironic cover of "Sentimental Lady"; it's a bit out of place but well-executed nonetheless. So while they didn't manage the near-impossible task of topping themselves, Valley Lodge has nevertheless topped about 90% of what's out there in the power pop genre right now, and will be up there at year's end.
CD Baby
|
MySpace
Bob Evans' 2006 release Suburban Songbook may not have been the all-timer that Valley Lodge was, but it was still my #1 disc of that year. Unlike Valley Lodge, Evans has charted the same course with his new release, Goodnight, Bull Creek!. Once again, he's enlisted genius producer Brad Jones and the overall sound is quite similar to Suburban Songbook. Which means you'll get tuneful tracks in the manner of Neil Finn, Josh Rouse (before he went to Spain) and David Mead (before he got all show-tuney) with a twinge of Americana (Australiana?). "Someone So Much" is the kind of folky ballad that Evans is a master at; "Pasha Bulker" is an uptempo treat that reminds me of Rouse's "Winter in the Hamptons", and "Hand Me Downs" is as good as anything on
Songbook
, with a backing piano riff and harmonica that gives the chorus a Stevie Wonder/"Don't You Worry Bout a Thing" feel. Elsewhere, "Your Love" is a bright, sunny track; "We're a Mess" rocks with a busy background, and "Power of Speech" is a lovely ballad with a bossa nova sound. Evans has done it again, and while there may not be a "Friend" or "Comin' Around" here, like Valley Lodge he's going to be high on the year-end list. (Like Suburban Songbook, this disc isn't being released domestically in the USA initially; expect it to show up at some point, though, at least through iTunes).
MySpace
|
Listen at official site
*Astute observers will note that despite considering Valley Lodge the fifth-best power pop album of all-time, it only placed #11 on my 2005 year-end list. A couple of caveats: it came out very late in the year (around Thanksgiving), and while Derby's This is the New You was my favorite album
during
2005, VL is obviously now my favorite album
of
2005.