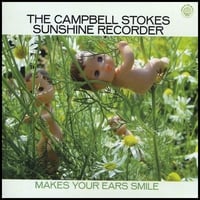 If you're a hardcore power pop fan, you've probably found yourself asking "Whatever happened to Bronco Bullfrog?" If you're not, you might be asking "Who the heck is Bronco Bullfrog?" Either way, it's news that Bronco Bullfrog's Andy Morten is back, this time with his new project The Campbell Stokes Sunshine Recorder. The band's name comes from an actual 19th century device that was used to measure sunlight, and the name of the album comes from the feeling you'll get after listening to this disc.
Picking up where Bronco Bullfrog left off, Morten & Co. offer a brand of winning British-influenced paisley power pop. The highly meta "Track One" finds Morten lamenting (or celebrating) that he's "too poppy for rock'n'roll" and giving a tongue-in-cheek rundown of his music set to a classic power pop beat. "She Looks Good in the Sun" sounds good on the disc, keeping the promise Morten makes in "Track One" about being true to his pop self, and "Tony Hazzard" is a tuneful Kinksian character sketch about a wannabe pop star complete with kazoo. Elsewhere, "Bye Bye Mrs. Bumble" is a mid-period McCartney Beatles-style track by way of The Monkees, and speaking of McCartney, "Everybody Loves the Good Times" is an "Uncle Albert/Admiral Halsey"-style pastiche that sounds like several song fragments rolled into one.
On the back end of the disc, "Olivia's Plaything" is a jangly midtempo featuring some "woo hoos", "TV Jingle Man" sounds about how you'd expect, uptempo and catchy, and closer "No Name #7" is a largely acoustic cap on the proceedings that serves as a fitting bookend to "Track One". All in all, if you want a melodically bright and extremely catchy disc that isn't afraid to poke fun at itself, Andy Morten's The Campbell Stokes Sunshine Records will, in fact, make your ears smile.
CD Baby
|
MySpace