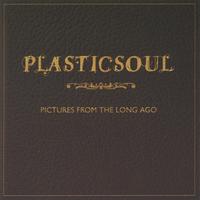 Since there's been a recent paucity of power pop discs that have caught my ear, I'm going to (temporarily at least) feature some overlooked discs from the last couple of years that warrant mentioning.
For those of you who yearn for Jon Brion's return to the studio for a proper followup to his only solo disc, 2000's Meaningless, I can't help you, but I can point your way to the next best thing: Pictures From The Long Ago, the debut release from Plasticsoul, a/k/a Steven Wilson.
Pictures
came out about a year ago, but kind of slipped under the radar at the time (translation: I didn't have this blog last year). It's a wonderful disc full of densely-produced, meticulously crafted pop that isn't afraid to go for baroque. Aside from the Brion influence, other prominent touchstones include the solo (and mid-period Beatle) work of John Lennon, whom Wilson bears the eeriest vocal resemblance to this side of Cotton Mather's Robert Harrison. If you think I exaggerate, check out his live-in-the-radio-studio cover of "I'm Only Sleeping" available for download from
his myspace page
; it's a dead ringer for the "unplugged" version found on the Beatles Anthology. Also, there's a definite Michael Penn influence at play, which comes as no surprise since Wilson is an active member of the
Michael Penn mailing list
, to which I also subscribe.
The song-to-song quality on this disc is outstanding, making it almost something of a seamless work, but there are some that are more equal than others. "Broken Bones", the leadoff track, sets you up perfectly for what's to follow with its Lennonesque vibe. The loping melody of "You Choose Me" has the vintage Brion sound, and "Over and Over" is perhaps the most rocking track on the disc and would have fit well on a Cotton Mather album. And while I prefer my songs 3-4 minutes long, and usually consider a track pushing 7 minutes to be in self-indulgent territory, I can't make that complaint about the album closer "Sleep Baby Sleep" which clocks in at 6:59 and serves as a perfect summation of the disc.
You can stream "Broken Bones" and "Heartbeats and Baby's Breath" at the myspace link above, and sample the rest
at CD Baby
. This may have not been in my top 20 for last year (although if I re-did it today, who knows?), but if you missed it the first time around, you're in for a real treat today.
UPDATE: I neglected to mention that this disc is available
on eMusic
.