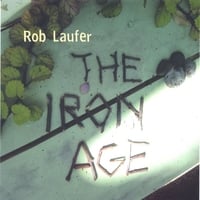 Rob Laufer is a pro. A pro's pro, in fact. He's played George in Beatlemania, he's played with Frank Black and Fiona Apple, he's produced, he's written for commercials, and he wrote "Reactionary Girl" (a great track) for Robin Zander's first solo disc. And now he's released his first solo disc in 11 years, The Iron Age. It was worth the wait.
This is a disc that will appeal to fans of David Grahame (another Beatlemania alum - he played Paul), Jon Brion and David Baerwald (remember David & David?). It's great singer/songwriter pop/rock, and it contains one of (if the not the) best songs I've heard this year: "Did You See Her Dance". It's a perfect combination of Grahame, Marshall Crenshaw and McCartney. There are plenty of other highlights as well: rockers "Inside Story" and "Open", the ballads "Mister Perry" and "Sweet Downfall", as well as the Brionesque "Angelyne" and the jaunty "In The Frame", currently used in an HP television ad.
Four tracks from the disc are streaming at
his myspace page
, while the full disc can be sampled and bought
at CD Baby
. There's also a music player
at his site
, but I couldn't get it to work.
UPDATE: Per the comment from NY Mary, note that The Iron Age is available
on eMusic
, and her comment also contains a link to her post on the album.