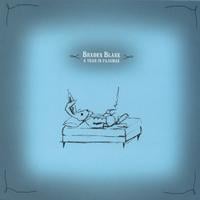 Another overlooked disc of recent vintage was the 2004 release of A Year In Pajamas by Seattle's Braden Blake, whom many of you may know from the semi-legendary power pop band Super Deluxe. It should appeal to those who enjoyed/enjoy/will enjoy the
Plasticsoul disc I featured yesterday
, except that the production isn't quite as dense here. In fact, the title is based on the fact that the disc was recorded in Blake's own home studio while he wore pajamas.
The sound here is less the straight-ahead power pop of Super Deluxe than it is comparable to Elliott Smith, Michael Penn, The Pernice Brothers and two of my favorite new bands of the last couple of years,
Derby
and
Supraluxe
. There's also something of a Neil Finn influence here as well. The first two tracks, "espris de Corps" and "Under The Wheels" are great mid-tempo, largely acoustic numbers in the E. Smith vein, while "She Hasn't Left Me (Yet)" is a more electric-sounding affair that bears a Penn-like sound. But the real stunner here is the lovely "Peter Pan", with its gorgeous Beatles-circa-"Because" harmonies. Other standouts include "Dear Paramour", the jangly "Laid" and the Pernicesque "One Way Trips". The highest compliment I can pay this disc is that's it one of those albums that get better every time you listen to it.
CD Baby
|
MySpace
|
Rhapsody