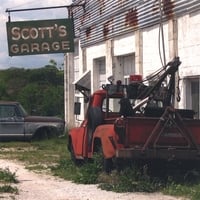 It's always interesting to consider the various subgenres of power pop, which I tend to define pretty broadly. There are many distinctive styles within the genre, and one of them is what I call "Southern power pop". Its practitioners usually do come from the South, and the operative sound is usually a mix of jangle and roots rock. You can hear it in bands like R.E.M. (in their less atmospheric offerings), Let's Active, The Windbreakers (including Bobby Sutliff and Tim Lee solo), and my usual rule of thumb is that if it the record sounds like Mitch Easter and/or Don Dixon was involved, it's Southern power pop. And one of the better examples of Southern power pop you're going to hear all year comes courtesy of the self-titled debut of Scott's Garage, hailing from (naturally) the South, specifically Richmond, Virginia.
Scott's Garage is led by Scott Baird, the drummer and vocalist (just like fellow Southerner Terry Anderson), and the disc is one melodic delight after another. "She Means Everything" is the leadoff track, and it encapsulates the Southern power pop sound: crunchy guitars, jangle, and more hooks than a meat locker. "Girl" is another great rocking track, sounding like The Smithereens had they come from South Carolina rather than New Jersey. "Nothing Left to Say" reminds me of Girlfriend-era Matthew Sweet, and "Some Day Some Way" has a bit of an Eagles/"Already Gone" sound. The slower numbers are excellent as well, with "Fading Away" and "Tell Me Why" standing out in particular. This one may just make me top 10 of the first quarter of 2008 list I plan to unveil in the next couple of weeks.
For those who don't need the physical CD and want instant gratification, the full disc is available in mp3 format at the bargain price of $5 at the CD Baby link below.
CD Baby
|
MySpace