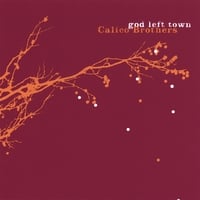 Janglers of the world, unite! You have nothing to lose but $8! New Zealand's Calico Brothers are here, and they've unleashed God Left Town, a 6-song EP that's the best jangle pop I've heard around these parts in quite some time.
"Hundred and One" hooks you in from the start, touching all the aural pleasure centers, coming across as one of the best tracks George Harrison never wrote. From the opening slide guitar through the jangly 12-strings and the "aahhh" harmonies, it's 4:05 of pure bliss. The more languid title track follows, reminiscent in style of compatriot Neil Finn. "Do What You Have to Do" bounces back with more jangle and is a hooky delight, as is "Poor Little Girl". "Love You and Leave", meanwhile, is more Lennonesque (the piano-based melody reminds me of "God") than Harrisonesque, but works quite well on those terms, and the ballad "Blown Up Heart" closes things in Beatle-y fashion.
Best $8 you'll spend so far this year, and there's a early leader for 2008's top EP.
CD Baby
|
MySpace
|
SonicBids
(stream all 6 tracks)