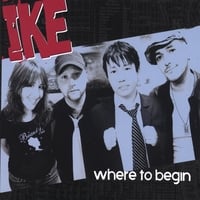 Philly's Ike has been one of the more consistent power pop acts of the decade, with two fine studio discs and a live disc on their CV. But things took a turn for the band recently as one-half of its primary creative team (popmeister Cliff Hillis) parted ways with Ike, leaving John Faye in charge. As a result Ike has been reinvented in Faye's image, which means more rock and less pop. Faye, former frontman of the Caulfields and solo act The John Faye Power Trip, has crafted a disc that definitely rocks more than its predecessors but doesn't sacrifice melody in the process.
The new sound of Ike is apparent right off the bat with "The End of the Rope" and "We Like Sugar". The Cheap Trick-style power chords and crunchy guitars are there in full glory, and "Whites of My Eyes" follows in Bon Jovian fashion. Although the guitars still crunch in "Atomic Rose", things lighten up a bit to reveal a more conventional power pop sound, and "A Curse Is Not Enough" would have fit in easily on previous Ike releases. Other highlights include "Say Luvva" (try getting
that
chorus out of your head), the power ballad "Carried Away", and the inspiring title track, which closes the disc.
The verdict:
CD Baby
|
MySpace