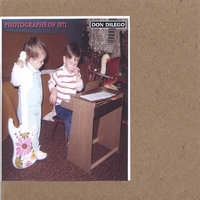 Don DiLego-Photographs of 1971
This one I didn't discover sifting through the virtual bins at CD Baby (although it is available
there
); instead, I heard several tracks from it over the past few weeks on XM Satellite Radio's
The Loft
, Channel 50. The Loft is XM's singer-songwriter channel (our motto: "
All Josh Rouse, all the time
") and they have some really good stuff on there (a recent show spotlighted David Mead's Tangerine, for example). Anyway, I picked up this album last week and have been enjoying it, with my favorite track being "Somebody Leave The Lights On" (it's got that Radiohead "High and Dry" guitar riff that Coldplay made a staple of their sound). You can stream that track as well as three others at Don's
myspace page
, and sample the rest at CD Baby.
A side note: I may also be partial to this disc because its cover art evokes memories of my own childhood while growing up on Long Island during the early-mid 70s. We had one of those paneled basements with brown wall-to-wall carpeting that served as a den/gameroom as well. This Matthew Sweet
album cover
(presumably taken during the 70s as well) is pretty much up the same alley. Brown was such a popular color back then - what were we thinking?