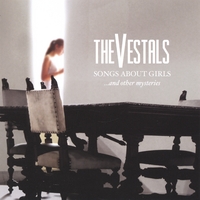 The Vestals are a power pop band out of Minneapolis led by brothers Ben and Jeremy Gordon, whom Amplifier Magazine called the "Jon Brion and Jason Falkner of the Twin Cities" upon the release of their self-titled debut album in 2004. Well, they're back with a new one, Songs About Girls...and Other Mysteries, and this should be right up the alley of our readers here.
Things couldn't get off to a better start with "Before I Run", one of the better power pop songs I've heard this year. Other tracks of note include "Going Going Gone", which sounds like Jon Brion via Queen via Pugwash complete with groaning cellos and the like, and the strings reappear on the closer "Broken Letters", with betrays similar influences. "Motorcycles and Butterflies" is piano power pop of the first order, while "Drag to be You" brings us the Falkner/Jellyfish sound. In other words, there's something for everyone here, and we have another top-10/top-20 contender for 2006.
"Before I Run" and "Drag to be You" are streaming at
their myspace page
, and "Motorcycles and Butterflies" is streaming at
their official site
. Sample the rest and buy it at
the Baby
. Have yourself a listen - don't be a Vestals virgin.
UPDATE: Their first album was no slouch either, and can be found
at eMusic
.