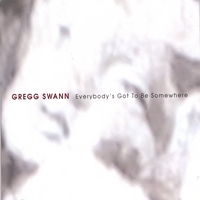 This one took me by surprise. Found it on one of my CD Baby listening marathons, and it stood out like a shiny diamond ring on a pile of garbage. (OK, maybe that's a bit too harsh a comparison for the other stuff, but the magnitude of contrast was definitely there). Swann's disc is vintage power pop, equal parts melody and crunch. Vocally, he sounds a lot like Mitch Linker (the ex-Day Trader who put out a
fine solo album
last year and has a
new EP
out), and also reminds me quite a bit of Ed James as well as the non-Sloan Chris Murphy
I featured last month
.
Swann wastes no time getting down to business with the rocking "Darkness Is Cheap", a two-minute blast featuring a great guitar riff that'll stick in your head. Next up is the apparent single, "Easier Said Than Done", power popcraft of the highest order; "I Remember When" follows with more of the same, complete with a Merseybeat guitar middle. The tempo drops a bit with "Let Me Get This Straight", but the quality doesn't, and things pick up again with "Hollywood". There really isn't a subpar track among the remaining five either, including closer "The Truth Hurts", an outstanding midtempo number. Don't be surprised to see this disc in my top 10 come the June 1st update.
The only negative here is the relative lack of samples to be had. He apparently has no myspace page, and his site is pretty bare bones. You can
stream
"Easier Said Than Done" from there, but that's about it. You'll just have to get into it the way I did, off the 2-minute CD Baby samples
which should be all you'll need
, and where you can wisely spend $10 to buy it.