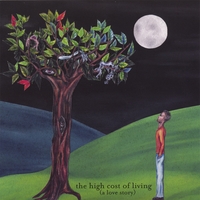 Mike Schmid-The High Cost of Living
Now on to the last entry in Singer/Songwriter Day. LA's Mike Schmid has crafted an piano-based pop album reminiscent of Billy Joel, Joe Jackson and (dare I say it - again) B-n F-lds. In fact, the title track reminds me quite a bit of BFF's Reinhold Messner album. Like Mark McAdam, profiled earlier today, Schmid has had some of his songs used on TV; three of his earlier tunes were played on Felicity. There's a bit more orchestration on this album than the previous two featured today as well, and a standout in that vein is "Wave Goodbye".
You can stream five tracks from the album
at his site
; four at
myspace
, and as usual, sample the rest and buy it
at CD Baby
. It's going for $12.97, so that's how much extra the high cost of living with a Mike Schmid CD will be.