After filibustering with lists and videos, it's time to break out some new music. Here are 3 EPs that recently came across my desk that are worth a listen:
Kevin Lee & The Kings-Dusk Till Dawn
. Some of you may remember Lee from his 2006 solo effort Flip the Switch, and for those who don't, Lee is a classic rocker/power popper in the Cheap Trick mold and the new EP with his backing band gets us off to a nice 2010 start. Opener "The Other Side" takes no prisoners with its driving rock style and big hooks, "Next Best Thing" rocks with attitude, and if this were the 80s, the power ballad
par excellence
"Invisible" would launch a thousand cigarette lighters. Rock on!
CD Baby
|
MySpace
|
iTunes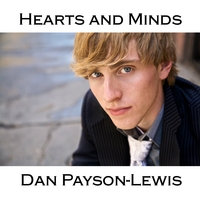 Dan Payson-Lewis-Hearts and Minds
. Adam Merrin of The 88 brought this SoCal singer-songwriter to my attention and I'm glad he did. He does share a similar pop sensibility to Merrin and his band, and these four songs make quite an auspicious debut. I hear bits of everyone from David Mead to Coldplay in the mix, from the power poppin' opener "It's a Long Way Down" to the lovely title track ballad. It's always a cliche to include the phrase "can't wait for the full length" in an EP review, but it really applies for this one.
CD Baby
|
MySpace
|
iTunes
Hearts And Minds
Michael Gross & The Statuettes-Impulse & Exports
. Last summer Gross & his band put out the fine EP
Dust & Daylight
and together with this new EP, they've released the equivalent of one kick-ass full-length. If you liked Dust & Daylight, you'll love this one and Gross & Co. have further refined their heartland-rock-with-a-touch-of-Americana sound. The noirish "Keep Driving" sets the tone with its late-period Replacements rock style, and the moody yet urgent "On and On" is equally outstanding. And for those familiar with Gross and his earlier solo disc Tales From a Country Home, he offers up a full-band version of that disc's "No Good", and it's anything but. I can wait for a full-length if Gross & Co. are content to crank out a top-notch EP every six months or so.
CD Baby
|
MySpace
|
Official Site