Research Turtles-Research Turtles
. Classic rock lovers, here's your band. Louisiana's Research Turtles (a literal band of brothers) manage to capture the art of the riff (one track is even titled "The Riff Song") while remaining tuneful enough to appeal to power poppers. Opener "Let's Get Carried Away" is the epitome of this balancing act, mixing heavy guitar riffs with an indelible melody. "Mission" is another winner, a raveup with cojones that has another chorus that'll stick in your head. Elsewhere, "Kiss Her Goodbye" is the kind of power ballad that's
de rigeur
on albums like this, but it works; the aforementioned "Riff Song" recalls Zeppelin, and "Tomorrow" is another display of their pop smarts. One could call them a Southern-fried Oasis, and like those Brits did in their 90s heyday, they manage to make the old sound new again, and that's no easy feat.
CD Baby
|
MySpace
|
iTunes
Research Turtles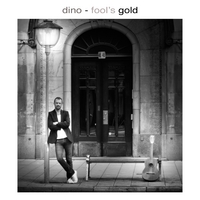 Dino-Fool's Gold
. Here at Absolute Powerpop, we scour the globe for power pop artists that deserve recognition, and our latest international power popper of mystery is Sweden's Dino. He remains a bit of a
real
mystery since I can't find a MySpace or a bio, but the album speaks for itself, a mix of ELO with 70s pop sounds not unlike similarly-minded artists like Pop Is Art! and AlternativA. "I Don't Believe in Love Anymore" bears the Jeff Lynne influence (in fact, it reminds me a bit of Kelly Groucutt's solo minor hit "Am I a Dreamer"). "Love is the Drug" is not a Roxy Music cover, but he does borrow from ELO again with the lyrics "do ya, do ya want my love" with another driving pop melody, and "The World Where You Live" (not a Crowded House cover) is another pop gem with bombastic backing. Other highlights include "California Blue Skies", which sounds as ebullient as its title, "Mrs. Frost", which has a bit of Fountains of Wayne about it, and the Lynnesque (or LEO-esque) ballad "Someone by Your Side". With a nondescript moniker like Dino, he's hard to Google, but easy on the ears.
CD Baby
|
iTunes
Fool`s Gold