The Gamilons-Blue Whispers EP
. Had it come across my desk upon its fall 2009 release date, this Delaware band's debut EP would have made the year-end EP list. As it stands, better late than never for this Cliff Hillis-produced 3-song gem. Fans of Hillis and his work in Starbelly will be at home here, from the hook-filled Beatlesque opener "Blue Shadows" to the acoustic-based "Whisper in a World" to the sublime and sweet melodies of "Summer Surfer Girl". We always say "bring on the full length" in these instances but I'll gladly settle for an EP with more tracks if they're going to be this good.
Not Lame
|
MySpace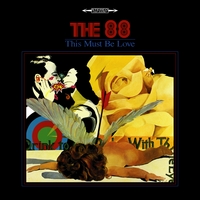 The 88-This Must Be Love
. LA's The 88 have a higher profile than most acts I review on this site - their songs have been featured in countless TV shows and films (see
here
), and they had their 2008 album Not Only...But Also released on Island Records with big-name producers Matt Wallace and Kenny "Babyface" Edmonds in charge. This came on the heels of their brilliant self-released album Over and Over (which placed #6 on my 2005 year-end list) and there was quite a bit of expectation associated with the followup. Not Only...But Also turned out to be a decent album, but lacked the sharpness and cohesion of Over and Over, another example of an indie band losing its identity on a major label. So it was a pleasant surprise to see them back, without fanfare and barely a year later, with a self-released digital-only album that doesn't quite match Over and Over's peaks, but sounds like The 88 again.
True to its title, This Must Be Love's main theme is L-O-V-E, and their pop smarts are on full display here. "Go to Heaven" opens the disc with what might be the power pop equivalent of "You Can't Hurry Love"; the title track is pop goodness; "Love is the Thing" is a 2:19 blast of slinky hooks; "One of These Days" recalls "Hide Another Mistake", their all-time greatest tune; and "Let Me Go" is one of those tearjerker ballads that stays with you. It's good to have The 88 back.
MySpace
|
iTunes