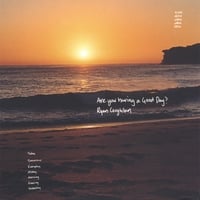 With its sun-setting-over-the-beach cover and its largely acoustic sound, Aussie Ryan Coughlan's Are You Having a Good Day? could be dismissed on first glance (or first listen) as a Jack Johnson knockoff. But closer inspection reveals a great pop record that is (as the self-provided descripton on CD Baby calls it) "disturbingly catchy" and which approaches the grace of another similar album that was one of my 2005 favorites, Graham Cousens'
Living Room Sessions
.
Coughlan starts off things off winningly with "Love Song", a very catchy number which wouldn't have been out of place on fellow Aussie Bob Evans' Suburban Songbook. The real standout here, though, is "A Good Day", which sounds like it could be a massive hit if the right TV show featured it, or right US record label executive heard it. It's almost an answer song to the Daniel Powter smash "Bad Day" and is cut from the same cloth. Other tracks worth checking out are "Butterfly", "What's Bugging You?" the slightly-more-rocking "1964", and the oustanding closer "My World".
CD Baby
is place to go to listen to this disc, and of course to buy it if you're so inclined. There are a few mp3s
here
, although from the sizes described, they're either clips or very-low-bitrate full tracks.