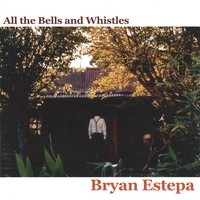 Here we go again - another high quality pop disc from Australia, another one produced by Michael Carpenter - I tell you these reviews almost are starting to write themselves. The man with the tunes this time around is Bryan Estepa, and his solo debut All The Bells and Whistles is most definitely worth your acquaintance.
Estepa's sound can't quite be pigeonholed. The opener "By The Window" has enough honky tonk in it to pass a possible lost Grateful Dead/Band track, while "Your Best Night" is classic midtempo pop, much in the vein of his producer. The real triumph here is the 6-minute pop gem "Western Tale", which betrays a Beach Boy influence but also throws in handclaps, backing female vocals, and that's just the first three minutes. "Come Around" and "Sunshine" are wonderful ballads, and "Cars & AM Radio" and "Room Next to You" are high-quality alt-country tunes. In short, there's something here for everyone.
"By The Window" and "Your Best Night" are streaming at
his myspace page
, while the rest can sampled
at CD Baby
, where it can be purchased as well as from
Not Lame
and
Kool Kat
.
UPDATE: Now available
on eMusic
.