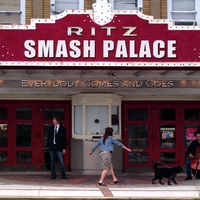 What better way to ring in the new year than with the first big-name power pop release of 2008, Smash Palace's Everybody Comes and Goes, the followup to 2005's Over The Top, which
placed at #10
on my Best of 2005 list. The veteran Philly band is known for their jangle pop sound, but here they add a few wrinkles to keep things fresh.
Opener "She" is classic Palace: Jangly guitars, a Beatlesque melody, great chorus. But "Didn't Anyone Tell You?" follows with a bit of a more "modern power pop" sound in the manner of Fountains of Wayne, while "When You're Down" has a late 60s sheen that brings to mind The Grip Weeds. Meanwhile, "Dressed In Black" and "Don't Ask Me Why" return to the more traditional Palace sound. Other highlights include "She Can't Understand", which reminds me a bit of "Love Grows" in the verses, and the album's best track, "Hoping", a jangly delight which would bring a smile to Roger McGuinn's face.
Although the official release date of the album is January 22, copies are available now at the CD Baby link below. There's no better way for a power popper to start the year than with this one.
CD Baby
|
MySpace