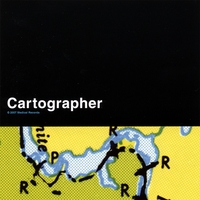 Time to introduce you to the first quality EP of 2008 (OK, it bears a 2007 copyright, but in my book stuff that comes out in December usually goes on the next year's account): the self-titled debut from Cartographer, the project of San Franciscan Scott Gagner.
The CD Baby page for the disc describes it as "Heavily melodic power pop, ranging from crunchy rockers to acoustic neo-psychedelia", and that's as apt a description as any. The EP starts with "The Trouble With You", which reminds me of Wilco circa Summerteeth and also of Warren Zanes' "When We Began", followed by the uptempo rocker "I'm Not Following You". Meanwhile, "Love Triangle for Two" sounds like a lost Joseph Arthur track, especially given that Gagner bears a striking vocal resemblance to Arthur, and "Waiting" has the kind of breezy melody, midtempo arranagement and hooky chorus that I just eat up.
All in all, Gagner has mapped out a fine debut here.
CD Baby
(no MySpace)