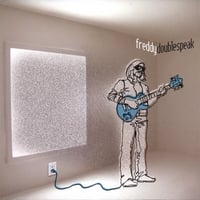 Britpop just ain't what it used to be. The movement that gave us Oasis, Blur and (early) Radiohead during the 90s seems to have split into those who want to meld the pub with the dance floor (Killers, Arctic Monkeys) and those who want to make inoffensive stuff that will get played on the radio (Coldplay, Keane). So it's fallen to non-Brits like Calgary's Freddy to pick up the mantle of "classic" Britpop with his second full-length, Doublespeak.
Opener "Massive" is just that, an Oasis-styled anthemic number that you could easily picture Liam Gallagher in your mind's eye sneering through. The BPMs go up after that with the title track, which reminds me of some of ELO's stuff circa Discovery. "Permanent Damage" is a wonderful midtempo number, and the danceable "Grow Up" casts the battle of the sexes in a humorous light. Other highlights include "Open Yourself" and the pretty piano ballad closer "Fluid".
CD Baby
|
MySpace
Side Note: The Canadian and US Postal Services combined to deliver his CD to me in a whopping 26 days. I know it was the holidays, but sheesh.