The Telepathic Butterflies-Breakfast In Suburbia
. I've been a big fan of this Canadian band, and they follow up their brilliant 2004 release Songs From a Second Wave (which featured one of my favorite songs that year, "Bonhomie") with this concept album of sorts about suburban life. While the topic may not be terribly profound, the songs are great. They're back on Rainbow Quartz, and they are the quintessential RQ band: hooky, Nugget-y sounding and unashamedly retro. Key tracks here: "The Trouble In Keeping Up With The Joneses", "Mr. Dysfunctionality" and "Facing Id". Plus, their main man is Rejean Ricard - with that kind of name, he ought to be in The Strokes.
Kool Kat
|
Not Lame
|
MySpace
|
eMusic
Rinaldi Sings-Bingo
. Are you ready to swing? London's Steve Rinaldi goes by the name Rinaldi Sings, and his latest disc is an effervescent pop confection that is characteristically English, bringing to mind the Swinging 60's, Northern Soul and all of that good stuff - I tend to see Austin Powers in my mind's eye when I listen to this disc. "You Take Me There" takes you there - right to Carnaby Street, and "End of an Error" is a pop triumph that evokes time and place as well as The Pearlfishers' "London's In Love" did last year. And the very cool instrumental title track sounds like a lost late 60's TV show theme. For those who loved the Red Button disc last year but thought it needed to be
more
British - here's your album. Yeah, baby!
CD Baby
|
MySpace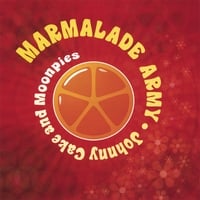 Maramalade Army-Johnny Cake and Moonpies
. Speaking of pop confections, here's a band with pastry in its album title (in fact, I'm getting hungry just typing this out). Anyway, this Boston band has baked up a melange of pastoral pop that touches on XTC, Brian Wilson, and many others. "Flower Girl" is a lovely short (1:43) number that captures their sound perfectly, while "She's My Dream" is a charming Beatlesque piece that features a fun whistling outro. Meanwhile, I'll give you three guesses as to who the "BW" is in "2BW" (you'll only need one guess after hearing it), and "Marigold" sounds as if it came off XTC's Oranges & Lemons disc. A nice little sleeper of a disc, but don't listen on an empty stomach.
CD Baby
|
MySpace