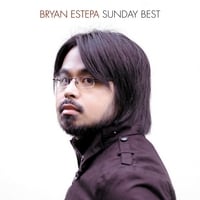 I'm not sure what it is about Bryan Estepa's albums that leads me to initially underrate them. 2006's
All The Bells & Whistles
(which was released later in the year) came in at #28 in my top 100 that year, but as I've mentioned before, if I were doing the 2006 list from scratch today, it'd probably make the top ten. With that in mind, I eagerly anticipated his new one, Sunday Best, and figured I wouldn't underrate him this time. So I received it a little over a month ago, and immediately got distracted by another Popboomerang disc that came along with it, the
Adrian Whitehead album
. But now that a month has passed, I've gone from "yeah, that sounds nice" to "hey, that's really good" when I've hearing songs from the disc, so once again with the passage of time the quality of Bryan Estepa's work comes shining through.
As with the debut, Sunday Best finds Estepa with a sound that on one side recalls Michael Carpenter (who produced the debut) and Neil Finn, and the other leans into alt-country. Opener "Aches and Shakes" falls into the former category, with an easy-sounding, breezy melody that will bring a smile to your face. "Different With You" is more straight-ahead power pop, while "Stars" is straight-ahead folk/rock. Estepa has always counted the Beach Boys as an influence (i.e., the brilliant "Western Tale" from All The Bells & Whistles), and this time he pays an overt tribute in "Carl Wilson" that comes from the same place in the heart as, say, the Replacements' "Alex Chilton".
Elsewhere, Estepa rocks harder than ever on "Myself", channels Gram Parsons on "Skipping Days" and "Worry Me None", ventures into Elliott Smith territory on "Second Guess" and then closes it in perfect fashion with the slow-building title track that encapsulates all of his styles in the space of 5:01. A great talent, and a great album.
CD Baby
|
MySpace