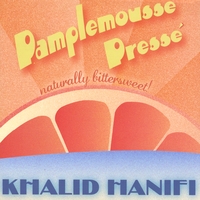 Those of us who remember the 2000 (re-released in 2005) Maypops disc
Spirits of Agnew
remember the name Khalid Hanifi, and know that seeing his name adorn a new 2008 solo release is a big deal. Those who don't will soon learn, if it's anything I have a say about. Spirits of Agnew was a power-poppin' gem, and Hanifi's 2008 solo debut Pamplemousse Presse is another winner, sure to appeal to fans of the poppier side of Elvis Costello, The Odds, and David Grahame.
"Mr. Wonderful" opens the disc, and the midtempo number is quite reminiscent of the recent Rip Off artists release. "When You Wake Up" is another fine track, piano-based with a stacatto guitar hook that just won't quit. The soft pop of "I'm Gonna Dedicate This One to You" gives way to the lovely "Hard to Believe", which features fine harmony vocals from his sister Sophie.
Meanwhile, the bouncy "Truck" should satisfy anyone's powerpop jones, and "Don't Hurry Me" offers up a bluesy vibe, and perhaps the disc's high point comes with the combo of "July" and "Idiot Box": the former glides along on an effortless melody, while the latter cuts like a lost Posies track. All in all, this disc is a quality addition to anyone who values smart, sophisticated pop in the vein of the artists mentioned above.
CD Baby
|
MySpace