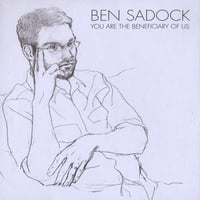 And now for something completely different. OK, not
completely
different, but not quite power pop. New Yorker Ben Sadock has given us the album we didn't know we were waiting for until we heard it with You Are The Beneficiary of Us, in which we get a return to the sound of pre-Graceland Paul Simon, Can't Buy a Thrill-era Steely Dan, leavened with a dash of Randy Newman. In other words, NYC-influenced, sophisticated 70s singer-songwriter pop that takes its cues in equal doses from The Brill Building and Motown.
The disc opens with "Pity the Fool", and it sets the tone both musically and in terms of sensibility. A catchy midtempo number heavy on electric piano, the promise of the song's title is kept with a reference to Mr. T. "Stepping out of Jersey" might be the best track here, with a hooky melody and a nod to the sentiment of "Born to Run" (the song, not the album) without the teenage melodrama. Elsewhere "Wise Women" calls to mind the early Steely Dan tracks on Can't Buy a Thrill when David Palmer sang lead instead of Donald Fagen; "Help Yourself, She Said" is a fine, soulful ballad; the piano-based "Glory Be" is where the Newman comparisons come into play; and "The Most Important Thing" recalls some of Stevie Wonder's breezier tunes from the early 70s. Speaking of Stevie Wonder, the bouncy "No More Loving" makes explicit several of the reference points just mentioned, quoting lines from "Sir Duke", Steely Dan's "My Old School" and even "The Way We Were".
If you grew up in the 70s (especially the first half of the decade), this type of sound was as integral to the pop landscape of the time as any other, but it's been woefully underrepresented among today's revivalists. So bravo to Ben Sadock for bringing back a piece of our memories. Even the misty, water-colored ones.
CD Baby
|
MySpace