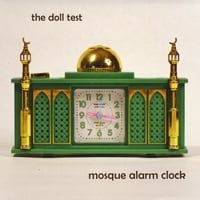 Seattle's The Doll Test made a splash two years back with their debut EP
Gasoline and Banks
, a hard-driving, power-poppin' effort inspired by The Who and The Kinks. Now they're back with their full-length debut, provocatively titled Mosque Alarm Clock and not afraid to mix it up politically.
"I'd Rather Be Asleep" opens the disc with a distinct 60s-garage sound. "Everything's Fine" is a rocking look at the effort it takes to get through the day, and it makes way for the wonderfully jangly "Fall Away", which itself is followed by the "harder" jangle of "The Bell, The Map, The Stars". Meanwhile, "My Future Self", with its spoken verses and retro chorus, sounds as if it came from 1969, and "Ballad of Your Blue-Eyed Boy" sounds like a cross between John Lennon's "Mind Games" and Oasis' "Don't Look Back In Anger".
The political is represented by "The Decider" (which is about you-know-who) and "The Last Rung", a "Street Fighting Man"-type rocker with horns (both literally - there's a horn section - and metaphorically). Overall, the disc is quite sonically similar to the Shake Some Action! albums, which is starting to lead me to believe there may be a distinctive "Seattle Power Pop" sound out there.
CD Baby
|
MySpace