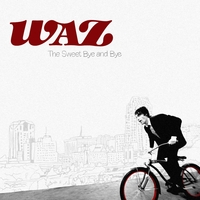 This one has been steadily growing on me until it reached the point where in good conscience I couldn't
not
feature it. A few weeks back, I mentioned it on
my Twitter feed
with the idea I'd leave it at that, but more and more listens have convinced me otherwise. Anyway, Waz is an LA musician who used to be a sideman for Pete Yorn, and with The Sweet Bye and Bye he's crafted one of the best soft pop/folky pop/singer-songwriter discs of the year as it turns out. Points of reference include Gus Black, AM, Adam Merrin and maybe even a more conventional Michael Penn.
"Hardly Enough" opens the disc and encapsulates Waz's sound: starting off soft and slow, building to a crescendo, and highly melodic. The guitar-based "Home" is another winner, reminding me of Ben Forrest Davis' "Roughs" album from last year, and "Mine to Remember" builds off a nice piano hook. "Why Can't We" is one of the more rocking songs on the disc, and bears the most resemblance to the sound of his former boss. "She's Gone" has the right mix of despair, melancholy and melody to live up to its title; and "Sleep In The Day" has a gorgeous, Neil Finn-style melody to it.
If you're a fan of this style of music, don't less this one pass you "Bye".
CD Baby
|
MySpace