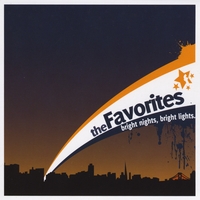 Straight outta Houston come The Favorites, who may soon be yours after crafting one of the brightest discs of 2008 with Bright Nights, Bright Lights. They remind me quite a bit of The Meadows (more their first album that the new one), The Gin Blossoms, The Rembrandts, and to some extent a less smart-assed Fountains of Wayne or an Americanized The Feeling.
"Something That You're Missing" and "In Case You're Wondering" are a great 1-2 punch to open the disc that immediately let you know what kind of sound you're in for: hooky, upbeat and hard to shake from your head. "Hope In The Sky" throws in some tasteful synths and rocks harder than the first two - it's more Waltham than The Gin Blossoms. "I've Got a Feeling" (not a Beatles cover) is heartland rock a la Tom Petty, and the lovely "Golden Like The Fall" shows that The Favorites know their way around the slower numbers as well.
Elsewhere, "Try, Try, Try" is where the Fountains of Wayne comparison comes in, and they share that popular band's wry outlook in "The Great Outdoors", a humorous look at a camping trip gone bad. "Let Me Come Home" is a power ballad whose title sums it up; and they channel Jeff Lynne on the outstanding "Pity Me Parade". Rounding things out are the Tex-Mex "La Tortuga Terrible" and closing ballad "8:00 am".
This is one of those discs that will jump right out of the speakers at you, and one I can see slotting into my Top 20 or better come year's end.

CD Baby
|
MySpace