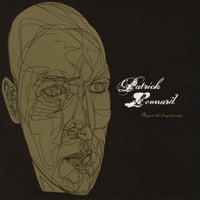 A couple of years ago on his Tangerine album, David Mead wrote a song called "Hard to Remember", which he said was inspired by his fairly nondescript name being just that. Well the name Patrick Leonard doesn't exactly jump off the page either as particularly exotic or memorable, but the Californian stands a real chance at making a name for himself in the pop community thanks to his top-notch debut album Begin The Beginning. Leonard comes across as a pop stylist in the manner of Michael Penn, Jon Brion and Elliott Smith, and fans of these artists as well as those of Braden Blake and the recent Andy Reed and Adrian Whitehead discs will enjoy this one as well.
Naturally, the title track begins the disc, and it's a wonderful mix of swirling melodies, intricate hooks and Lennonesque vocals. The rocking "No One Else" is another gem, with a bit of an Oasis-like swagger, while "Mars Theme" is pop near-perfection and "Down South" is a fun George Harrison-influenced shuffle. Speaking of Harrison, "The One" also bears his influence with a bit of a mystic sound yet is still highly melodic. The dreamy "Light of My Love" is definitely Brionesque, while the low-key "Be Loved" recalls E.Smith. The penultimate track, "Miss You", is a fine jangler in the vein of Michael Carpenter, and the disc closes with "Majicku", a trippy, exotic number that brings Peter Gabriel to mind.
All in all, this is an outstanding debut of sophisticated pop that I can see making more than a few year-end lists, and hopefully this is just "The Beginning" for Mr. Leonard.
CD Baby
|
MySpace