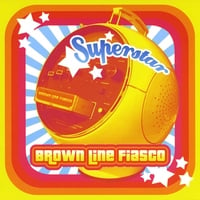 Chicago's BrownLine Fiasco is back with another disc of what they call "positive power pop", on the heels of their fine debut disc of late 2006, New Revolution. I first came across these guys on the strength of their track "Milk & Honey" on last year's IPO compilation, and I'm glad I did, as Superstar is a leap forward from the first disc and a great example of crunchy power pop a la Cheap Trick, The Knack and contemporaries such as Rooney and Weezer.
After the somewhat trippy opener "Lovely Day", the boys get down to business on the title track, which has enough power chords and riffs to keep you busy for a while and gives off a late 90s Collective Soul/Better Than Ezra vibe. "Over Our Heads" is a bit more midtempo and could pass for a Gin Blossoms tune, and "Without Love" is a real gem - a sugary confection with hooky harmonies that recalls Big Kid at their best.
Elsewhere, the midtempo "You're Not Alone" is radio-friendly, and the nearly-six minute "So Into You" takes a sonic detour, as it's a bit of a mini-suite that goes from strings to rock and back before it's over. The album concludes with "Look of Amazement", a catchy track that flirts with an R&B groove. Despite the band's name, Superstar is anything but a fiasco.
CD Baby
|
MySpace