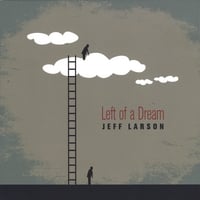 We all know the cliche about death and taxes being the only certainties, but there's another one to add to the list: about once a year, Jeff Larson will release a quality disc of laid-back California pop in the vein of America, Dan Fogelberg and The Eagles and make it sound effortless. He's done it again with Left of a Dream, his best since his 2006 career-highlight
Swimming in the Make Believe
.
After opening with the fine-but-brief "Wake Up", Larson gets down to business with "Anywhere She Goes", complete with guest vocals from America's Dewey Bunnell. "Ghosts of San Miguel", is California soft-pop noir featuring backing vocals from the other half of America, Gerry Buckley. Meanwhile, "Red to Rust" stands out as a particular highlight with its upbeat melody and Larson's use of the gitjo, which as its name implies, is a guitar-banjo hybrid. "Where Is Indio, CA" is another winner, and although Buckley's harmonies are prominent here, the sound is more Jayhawks than America.
Other standouts include "California Rail", which features the gitjo again and sounds as rustic as the title would indicate; the Eaglesque "Easy on Me" (both of which feature Brian Wilson bandmember Jeffrey Foskett on backing vocals), and album closer "Be Here Anyway", which just seems to be the quintessential Jeff Larson track.
Larson isn't plowing any new ground here, but that's OK - with the Eagles and America only making new discs about once a decade, he fills a niche that's certainly worth filling.
CD Baby
|
MySpace