E.B. The Younger-To Each His Own
. E.B. The Younger is the solo debut of Midlake's Eric Pulido and from its 1972 Topps baseball card-inspired cover to its laid-back melodic vibe, To Each His Own captures the spirit of 1970s singer-songwriterdom. Opener "Used to Be" has enough pop lilt to bring fellow 70s-obsessive Josh Rouse to mind, while "When the Time Comes" boasts a countrypolitan sound that could be Glen Campbell crossed with Harry Nilsson. "Down and Out" is as smooth as butter (on Bread?) while "Monterey" comes off as a less smug-sounding Eagles song. And the vaguely tropical, vaguely honky-tonk "On an Island" does recall some of Nilsson's off-kilter moments. This record is kind of a spiritual cousin to Rayland Baxter's Wide Awake from last year, and those who enjoyed that will enjoy this.
iTunes
Mondello-Hello, All You Happy People
. Mondello is the project of Little Rock's John Moran and it features 14 poptastic tracks he's written over the past 20 years. The long gestation period was worth it as the tunes here recall a less smart-alecky Fountains of Wayne on one hand and a male-only New Pornographers on the other. Leadoff track "Sherilyn" is infectious in the best way, and the driving "They Say They Don't Believe It" gets a bit cacophonous but never goes off the rails. "The Girl With Half a Mind" is the track here that channels FoW most openly, while standout "Don't Say Anything Bad About My Baby" throws a little Brian Wilson into the mix. Pure Pop for Happy People.
iTunes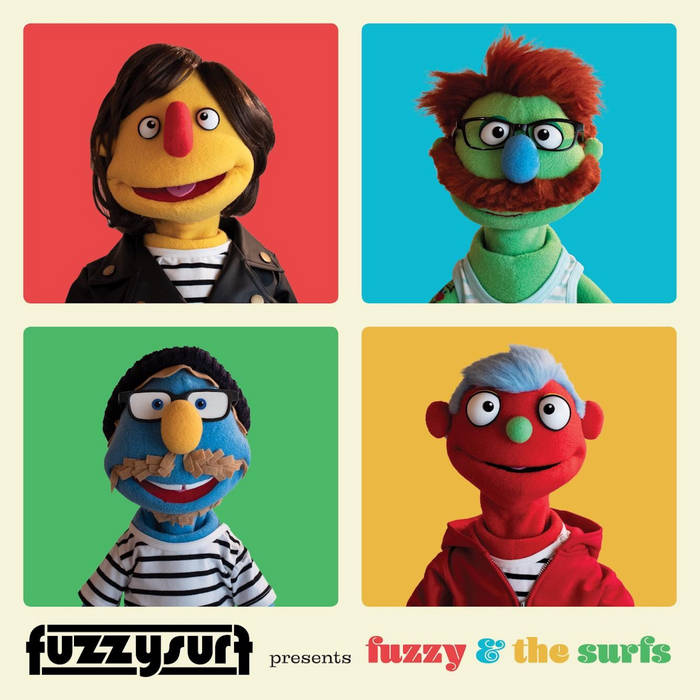 Fuzzysurf-Fuzzy & The Surfs
. Milwaukee's a long way from the beaches of California or the river Mersey, but this Wisconsin band loves them some Beach Boys surf-pop and 60s British Invasion and they mash them up on this highly enjoyable release. From the Spongetones-esque "Problems" to the unfortunately-titled but fortunately tuneful "Vomit" to the later-period Beach Boys of "Killing Time", they honor their idols without sounding too slavishly retro. And that's even with tracks titled "Please Please Me Too" and "Don't Worry Baby" (an original, not a cover). And dig the Muppets-styled album art.
iTunes