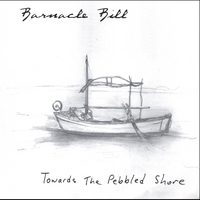 Avast ye maties! Yar, today's CD for ye is Barrrrnacle Bill's
Towards The Pebbled Shore
. (When I picked this one out a week or so back, I promised myself I wouldn't go with the pirate talk. But I'm weak, I tell you, weak.) BB is a 3-piece out of NYC featuring two principal singer/songwriters: Yianni Naslas and Stu Klinger. I've always considered it a good thing for a band to have at least two creative voices of relatively equal ability; instead of getting one guy's sixth to tenth-best tracks, for example, you get a different guy's best five. The ultimate example of this dynamic was The Beatles, but even contemporary power pop bands like Fastball (Scalzo/Zuniga) and Sloan (Murphy, Pentland, Ferguson *and* Scott, except on the last one), have demonstrated the value in this arrangement.
For Barnacle Bill, the Fastball comparison is apt. Klinger is the Scalzo of the band, more of the classic power popper, sounding a lot like Fountains of Wayne on the leadoff track "Best For Last" and "Santa Fe", while Naslas is the Zuniga, a bit more laid-back, although he can turn it up as well, as demonstrated on "See You Through". This is a fine debut, and once it gets in front of the right ears, I can see it becoming a popular release in the power pop community.
The good news is that you can stream this album in its entirety (although you have to select one track at a time) at their
website
. And of course it can be purchased at
CD Baby
for $10. Yarrrr!